| | |
| --- | --- |
| 9th Trade Caravan - Wed 7 at 7:30PM | |
Monday, 05 January 2009 15:04
Hello fellow Britannians,

As announced at the end of the past week, the HLP guild will be running a new trade caravan.
This is 2009 first trade caravan! So don't miss it!
This time we will be on the road to Britain from Trinsic.



Here is the planned route :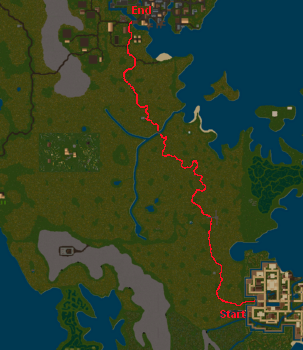 Everyone is welcome to join us and help us defend our prized possessions in the dangerous trip.

The caravan will depart the coming Tuesday, enlist yourself!

We count on you!

Paidric of New Haven.
---
This event is intended for all players who want to experience some PvP in a fun and different way. We encourage every player to join us.
Bring your blessed armor and weapons if you fear the insurance cost! Or just buy some GM made armor/weapons.

You can find all details about the concept of the event here :
Trade Caravan Concept Page

Schedule and organisation
The Caravan will depart on Wednesday 7 at 7:30PM UK Time (20:30PM CET - 2:30PM EST).
The meeting point is the Trinsic West gate (inside town).
Gates will be provided from Luna Hall from 7:20PM until 8:00PM (the caravan will be on the road already).
Nine people will be carrying items for the Caravan, those will be engraved verite Longswords carried inside the main backpack of the caravanees.
The goal of the guards is to reach our destination with as much of those items as possible.
The Caravan will be led by N'athuk of [HLP] (though we expect him to die quite a few times being in front). There will be other caravan leaders to help keep some structure.

Please remember that dry-looting, rez-killing and other antisocial behavior is really just ruining your own fun in the long term. So we encourage everyone to make it a fair fight so it last longer to the benefit of everyone!


We hope to see many of you.


Paidric