The Haven Herald
| | |
| --- | --- |
| No updates forseen until SA | |
Monday, 08 June 2009 17:58
Well, I have to say that 2009 has started rather badly for me and it's not getting better at the moment. I'm totally overworked and I struggle to log into Britannia.
So there won't be any updates until Stygian Abyss is released. At least I hope things will be better by then and I'll be able to update the content of the website with the SA informations.
I'd like to take the opportunity to thank all those who struggle to keep the spirit up on Europa! Our donators, who help us equipping the newcomers or returners (you can find a thank list : here) but also my fellow HLP members : Minerva Foxglove, Deothos, Heini Moonshine, Maître Hendemeur and the others.
I hope to be playing again more often in the not too distant future. Till then, I wish you all good luck for the exams if you're still studying and good summer vacations for everyone
Catch you all when the weather gets cold again and the Stygian Abyss gates' open.
| | |
| --- | --- |
| Busy but goodies coming! | |
Saturday, 31 January 2009 06:54
Hello fellow britannians!
In the past few weeks I've been overly busy and had not much time to play. All my time was spent in Haven so didn't do much else. Though, I'm sticking to my new year resolutions! I've been working as often as possible on the video tutorials, so next week (when my connection goes back up to a normal speed) I'll upload 4-5 video tutorials for the 2d client.
You should also see the KR introduction video! But since SA is looking like it's coming our way. This will be the only video tutorial for KR. I'll wait for the SA client to post more!
Once done with the video tutorials I was planning, I'll go back to articles. Mostly templates and dungeons/spawns.
Last Updated on Saturday, 31 January 2009 06:59
| | |
| --- | --- |
| 9th Trade Caravan Report | |
Friday, 09 January 2009 21:35
So here it is, the report of our 9th trade caravan!
Thanks for waiting I sadly was VERY busy with work and other things. But I have some goodies for you to pardon me!
On a side note, I recommend all the defenders not to take their faction characters to the Trade Caravan, it makes it even harder for them to defend from both orange and red enemies!
I won't keep you waiting, here it is!
---

The time had come again for a new Trade Caravan after a break of a few months.

 

I wasn't sure that we would have a lot of people coming, especially since we announced the caravan day and time only a few days before the actual event.

But soon my fears were gone and we hand a bunch of defenders ready to die... I mean to protect us!
I decided to wait a bit longer for everyone to gather. We were soon ready to head to Britain.
And off we go! En route for a grand moment of fun and mayhem... I mean thrill
The ambushes started very quickly !
It's always a bit scary when you are running, minding your own business and suddenly it's overheating!
The caravan is a bit spread along the road and I try to regroup everyone so we wait for the back of the caravan to catch up on us and get some relief from the bandits!
A bit later on the road I receive reports of skirmishes in the back of the caravan so I decided to wait for them. When our brave second caravan leader gets roasted in front of us! Ouch!
We finally make it to the bridge where we try to regroup before continuing to Britain. Though faction fights were starting all around the Caravan.
The trip to Britain from there was rather quiet but I received report that the back of the caravan had a hard time advancing because of all the brigands attacking them. So I decided to run back to help them, but found myself alone in the middle of more enemies than I could chew... and it ended like it should... oooOOOoooOO
Luckily enough though, the reinforcements came down quickly and we didn't lose my sword! And finally we headed back to Britain where we gathered to count our losses.
4 swords out of 7 were stolen from the Caravan this time. Let's hope we'll make better next time!
Last Updated on Friday, 09 January 2009 22:05
| | |
| --- | --- |
| Add your comments now! | |
Wednesday, 07 January 2009 12:58
Hello fellow Britannians,
I'm rather pleased to announce that from today, you can now add comments to the articles. Just scroll to the bottom of each page where you'll see a link to open the comment panel.
Some styling need to be done to make it a bit more visible, but I wanted to let you know it is now working. You just need to know that each comment will be reviewed before it is seen on the website. We hope to get as much feedback from you as possible!
| | |
| --- | --- |
| 9th Trade Caravan - Wed 7 at 7:30PM | |
Monday, 05 January 2009 15:04
Hello fellow Britannians,

As announced at the end of the past week, the HLP guild will be running a new trade caravan.
This is 2009 first trade caravan! So don't miss it!
This time we will be on the road to Britain from Trinsic.



Here is the planned route :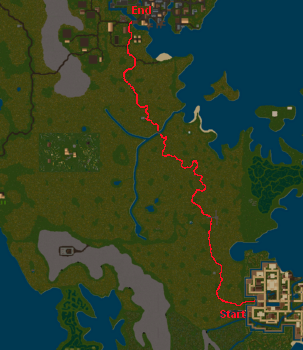 Everyone is welcome to join us and help us defend our prized possessions in the dangerous trip.

The caravan will depart the coming Tuesday, enlist yourself!

We count on you!

Paidric of New Haven.
---
This event is intended for all players who want to experience some PvP in a fun and different way. We encourage every player to join us.
Bring your blessed armor and weapons if you fear the insurance cost! Or just buy some GM made armor/weapons.

You can find all details about the concept of the event here :
Trade Caravan Concept Page

Schedule and organisation
The Caravan will depart on Wednesday 7 at 7:30PM UK Time (20:30PM CET - 2:30PM EST).
The meeting point is the Trinsic West gate (inside town).
Gates will be provided from Luna Hall from 7:20PM until 8:00PM (the caravan will be on the road already).
Nine people will be carrying items for the Caravan, those will be engraved verite Longswords carried inside the main backpack of the caravanees.
The goal of the guards is to reach our destination with as much of those items as possible.
The Caravan will be led by N'athuk of [HLP] (though we expect him to die quite a few times being in front). There will be other caravan leaders to help keep some structure.

Please remember that dry-looting, rez-killing and other antisocial behavior is really just ruining your own fun in the long term. So we encourage everyone to make it a fair fight so it last longer to the benefit of everyone!


We hope to see many of you.


Paidric
| | |
| --- | --- |
| Event Moderators - 09/01/05 | |
Tuesday, 30 December 2008 13:46
As many people probably know already, we now have not one but two Event Moderators on Europa. They go by the names of EM Sarakan and EM Emile Layne.
While it is not yet that clear to me what EA_Mythic does await from them, it's pretty sure most players are really eager to see them at work! Europa always has felt a bit left out in comparison of the big american shards. Let's hope that things will take another turn this time!
We don't know much about our new EMs and I think that will remain as is, since it seems they cannot contact players directly or answers on forums, but they seemed really nice and interested in doing some good for the europa community.
Welcome to you two!
Last Updated on Monday, 05 January 2009 12:14
Read more...
| | |
| --- | --- |
| 9th Trade Caravan | |
Tuesday, 30 December 2008 11:59
Some of you did miss them... so here it comes.
The 9th Trade Caravan !
The current planned date would be the 9th of January 2009 (o rly?)
I will post more details as soon as it gets more shaped out. But you can hold your breath.. and your bandages... the worse is coming!
I hope to see many of you!
Paidric.
| | |
| --- | --- |
| Introducing Video Tutorials | |
Tuesday, 30 December 2008 11:44
As most of you probably noticed... I've been very very busy far away from my beloved Britannia, running back and forth between my different jobs. BUT, I haven't forgot you all! And I was preparing some goodies for the new year. Let's make 2009 start better than 2008 ended.
2009 novelty will be several video tutorials about Ultima Online interface and gameplay. I've created a whole new Tutorials section with two sub sections, one for each client.
At the moment there is only one 2D tutorial which is mostly a test to see what's good and what's not. Feel free to use the contact page to let me know if you like it or not! Only feedbacks can make the tutorials better.
To give some insight on what I'm planning... I only want very short tutorials on very specific and confusing subjects. My first tutorial for both clients will be a small course on using the interface and.. speaking... simply. It is sometimes harder for people than you might guess...
At first, I'll focus on 2D tutorials because KR is somewhat close to other MMORPG interfaces, so less confusing for new players. Also, I don't want to see myself doing loads of KR tutorials to see it all change with SA... so I'll go on the lazy way here... sue me!
| | |
| --- | --- |
| New auction website! | |
Saturday, 13 September 2008 12:16
The HLP guild has been founding a new auction website for ultima online!
You can visit it : http://auction.uosites.com/
Register and be part of the lottery for 1, 2 or 3 millions gold pieces! Spread the word and let your friends know!
| | |
| --- | --- |
| Another month before some changes | |
Wednesday, 10 September 2008 12:56
Hello fellow britannians,
Sadly enough, there will be another month before I can even think of making changes to the articles and add new ones. I'm busy on two important projects, one being UO related, the other being work related. Not counting all the stuff I have to do on the daily basis.
I'm planning to start a new event when I'll have more time and revive the Trade Caravan which went on hold with the lack of people during vacations. I should be playing more around October and thus adding more content here too as I have the time to do so.
| | |
| --- | --- |
| Activities on hold | |
Monday, 18 August 2008 08:32
You probably noticed the lack of activity lately, may it be here or ingame. The reason is pretty much a very very very busy life which doesn't give me much free time. Though, I hope that things will settle down a little around september/october.
Regarding the website, I have a few more posts planned. I need to put the texts in shape and make the screenshots though. Mainly I plan to add more first steps guides and possibly more templates. But due to the always evolving nature of UO, advanced templates  are a lost battle!
I am also willing to put more informations about the main dungeons, with a focus on which equipment type to bring and how to hunt the monsters there. But that would be only for new player grounds! This is my field!
Regarding events, well, the caravans should start back around September, though maybe not run by me. And I plan to start a new PvP event aswell as a RP event for new players. Though it all depends on my free time.
We'll see how it turns out! 
«
Start
Prev
1
2
3
4
5
Next
End
»
Page 1 of 5